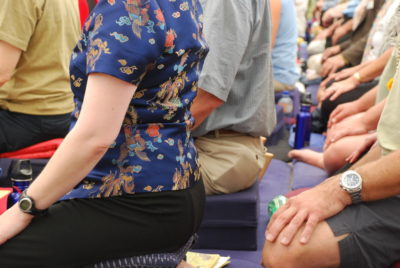 Shamatha-Vipashyana Dathün Following the Form Taught by Chögyam Trungpa Rinpoche
with June Crow
"In the practice of meditation, you step beyond your hope and fear. You develop trust in the strength of your being and in your ability to extend yourself to others, and you find you have tremendous willingness to do so."
-- Chögyam Trungpa Rinpoche
This dathün, for both new and experienced meditators, will follow the intensive group retreat style introduced by Trungpa Rinpoche. Each day consists of a full schedule of alternating sitting and walking meditation. Meals will be taken in the meditation hall using the traditional Zen contemplative eating practice of oryoki.
The dathün offers an experience of simplicity and clarity rarely found in modern daily life, and is a unique opportunity to develop a deep familiarity with the sitting practice of meditation taught by Shakyamuni Buddha. Shamatha-vipashyana meditation helps us to make friends with ourselves and our circumstances, and to re-discover our fundamental awake nature.
What to Expect
This style of dathün follows the traditional four-session schedule daily, beginning at 7am and ending around 9pm. Sitting sessions are alternated with walking meditation periods, and there are regular breaks for meals, tea, and a mid-day work period. Silence (functional talking) will also be practiced for parts of the program, and participants will have daily light cleaning and kitchen tasks as meditation in action.
Meals are likewise an opportunity to practice meditation in action, and will be taken in the meditation hall using the Zen contemplative eating practice of oryoki.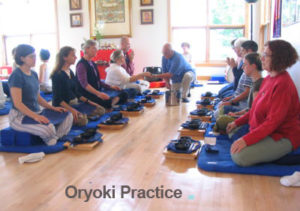 While this is primarily a practice retreat focused on deepening one's shamatha-vipashyana meditation, there will be occasional dharma talks given by the senior teachers.
This dathün will be led by students of Trungpa Rinpoche, all of whom have practised this form of meditation anywhere between 20 to over 40 years, and have been trained as meditation instructors and teachers. Participants will have regular individual meetings with one of these experienced meditation instructors.
Who Should Attend
The dathün is open and can be beneficial to both new and experienced meditators.
However, this is an intensive program not usually appropriate as a first introduction to meditation. Some familiarity with meditation practice is recommended, and newer meditators are advised to develop a regular daily practice before taking on an intensive, month-long meditation program such as dathün.
The dathün is also an excellent way for ngöndro or sadhana practitioners, or mahamudra or ati students, to deepen their overall practice path by reinforcing its shamatha-vipashyana foundation.
If you have any question about the appropriateness of this intensive for you please email the Dorje Denma Ling Program Manager, and they will provide you with contact information for the Lead Teacher, June Crow.
Tuition & Housing
On-site housing in double or triple occupancy rooms, as well as all meals, are provided on-site. Off-site accommodation is not permitted.
The retreat is limited to 28 participants. Registration will open when we are able to announce the price -- sometime on or around the Tibetan New Year. Scholarships and payment plans will be available.
Due to limited space, people who wish to attend the full month retreat are being given priority. Partial attendance cannot be accommodated at this time, but may be possible if there is available space closer to November.
You can hold a place on the participant list by contacting Crane Stookey and you will be notified when registration opens. There is no obligation for you to register at that point if you decide not to.
If you are interested in attending one, two or three weeks of the retreat, you could also contact Crane and indicate how many and which of the weeks you would like to attend. Note that it is not possible to enter the retreat on the fourth week.
Sponsor Dathün Participants
We are working to reduce the base price of dathün through sponsorships so all students who wish to attend this powerful retreat can do so. If you are interested in being a dathün sponsor please email Crane Stookey for more information, or simply click on the Sponsorship button below to participate.
Sponsorship donations are tax deductible and payable to the DDL CTR Dathun Fund, which has been created solely to support the costs of this dathün program, excluding unrelated DDL operations.

USEFUL LINKS
What to Bring & Expect at DDL
How to Get Here
Financial Aid Form