Community Meet & Practice Day: Loving Kindness and Compassion
With Shastri Steve Gleich
July 26, 2020
In order to address our longing to gather in person, as community in a safe manner, Dorje Denma Ling was inspired to offer a series of Community Meet and Practice Days during the suspended 2020 program season. We gather to appreciate our good fortune to live in a safe and prosperous region, and we gather as well to generate loving kindness and compassion for the heightened, world-wide, individual and collective suffering.
We will be engaging in various practices to address this purpose over the season. But we start with the practices foundational to our Shambhala Vision — contemplating The Heart Sutra, sitting together, exchanging ourselves for others (tonglen) and other compassion practices.
Please join us for this day of compassion practices to help calm the suffering of people and events. Shastri Steve Gleich will lead the practices.
Schedule for The Day
10 am gather in front of the flags for lhasang practice;
11 am practice, talks, discussions, etc. in the pavilion;
12:30 pm enjoy a barbecue lunch, good company and walks on the land;
2:00 pm practice, talks, discussions, etc. in the pavilion;
3:30 pm tea break;
4:00 final session;
5:00 departure for home.
Cost
Suggested cost for attending is $30 to cover food and supplies. If this is prohibitive for you, please email us with an amount affordable for you.
Of course, donations to Dorje Denma Ling's Surviving the Pandemic Fund are much appreciated.
To Ensure Everyone's Safety
As much as possible, we will enjoy our food outside, picnic style (weather permitting);
We will practice in the pavilion with appropriate distancing and maximum ventilation as permitted by the temperature;
The number of attendees will be limited to that which can be appropriately seated in the pavilion;
Chanting will be silent, except for the leader;
We will provide hand sanitizer and spray cleaners in appropriate places around the land.
We Ask You
Please stay home if you have a fever or suddenly feel unwell.
Please do not enter the main building, which is reserved for our "Staff Bubble." This includes the kitchen, Dragon shrine room, dining area, and washroom facilities therein. (We will direct you to other washroom facilities you can use.)
If it makes you feel safer, please consider wearing a mask.
Leader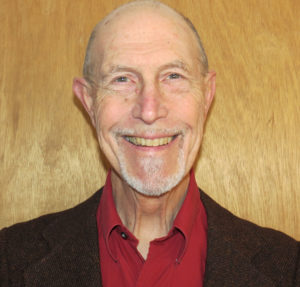 Shastri Steve Gleich
Shastri Steve Gleich feels very fortunate to have received teachings from Chogyam Trungpa Rinpoche and Sakyong Mipham Rinpoche and their senior students and to have been in the Shambhala Buddhist world since 1982. He is now retired from 30+ years career in psychology and mental health and 10+ years career as woodworker. He has been married to Lilly for 38 years, and they are now living in Tatamagouche, Nova Scotia. He continues to volunteer with Dorje Denma Ling, Tatamagouche Shambhala Meditation Group, Dorje Kasung Land Group, and the local food bank.
Learn more about Shastri Steve Gleich