Milarepa's Songs of Realization Retreat (On-land and Online)
With Kristine McCutcheon
February 23 - 28, 2021
Milarepa Retreat:  Tuesday, February 23 – Sunday, February 28, 2021
ON-LAND: Arrive 5:00 p.m Tuesday / Depart: Sunday
ONLINE: Program begins with a 7:00 pm talk on Tuesday evening 
Milarepa Day:  Saturday, February 27, 2021
10:00 a.m. – 9:00 p.m. Atlantic
(Included in full retreat.)
Half-day Nyinthun:  Sunday, February. 28, 2021


9:00 a.m. – 12:00 p.m. Atlantic 
This is a hybrid on-land/online program. Please note that on-land participation is restricted to residents of Nova Scotia as per the current covid quarantine regulations. Also, the number of spaces on-land is limited, so register soon.
Milarepa's songs have inspired meditators for a thousand years. That they are still sung and studied now is because they point us to a valid path to realization. This retreat will bring together the elements of study, singing and meditation to develop 'prajna' in order to benefit ourselves and others.
This group retreat will include Milarepa Day a celebration of the songs of realization of the Kagyu Gurus of which Milarepa is one. We will also have movement, singing and silence and discussion over the course of 5 days. Instructions will be provided. This is easy and appropriate for beginners and experienced meditators alike.
About Milarepa Day
This is one of the annual celebrations of our community held on the full moon following Shambhala Day (or close to it). This opportunity to come together and join our voices in union with the words of others who, like Milarepa, have struggled with disillusionment, worked with renunciation and searched for a path and a teacher.
By reading the dohas and stories in The Rain of Wisdom we are connecting to the practice of devotion, courage and insight via the Kagyu lineage holders songs. We start and end the day with a Guru Yoga practice of Milarepa.
Pricing and Registration:
Useful Links
Leader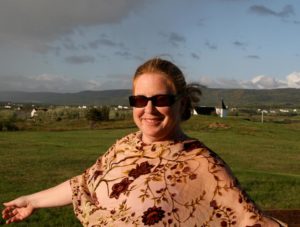 Kristine McCutcheon
Kristine McCutcheon is a householder yogi in the Shambhala tradition.  Whose buddhist practice includes completing a 3 year retreat, studying with Ven. Thrangu Rinpoche, Khenpo Rinpoche, Pema Chodron and her heart teacher Sakyong Mipham Rinpoche. Kristine lives with her husband in Cape Breton between the mountain and ocean.
Learn more about Kristine McCutcheon