(Online) Ecology of the Heart: Exploring Inner and Social Sustainability in a Time of Eco-Anxiety
With Nick Kranz
May 1 - 8, 2021
In order to bring our world back into balance, we need to start where we are, not where we think we should be. Perhaps the most pressing issue of our time is the threat to our biosphere.


– Nick Kranz
What does Buddhism say about ecology?
Along with many other wisdom traditions, Buddhist teachings have pointed for millennia to our deep connection and interdependence with everything in the biosphere. In the 8th century, the great teacher Padmasambhava predicted a time in which the inner five emotional responses would become out of balance, thus poisoning the five elements and causing extreme weather and destabilization of the biosphere.
Having arrived at this moment together, how can we rise to the challenges before us without burning out or falling into eco-anxiety and depression?
How can we begin to practice a sort of inner sustainability which will be mirrored in a
healthier outer ecosystem?
How can we shift our world view such that right living flows naturally out of our sense of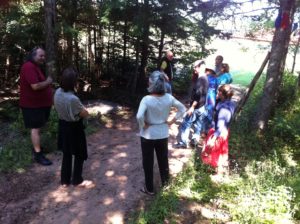 fullness and connectedness, rather than a sense of isolation and lack of meaning?
What to Expect
In this week-long retreat, we will focus on healing through meditation, somatic awareness, dialogue and exploring our direct experience of what it is to be "an embodied, living awareness" that is part of Nature — at this time, in our world. We will also practise sharing through the discipline of Social Meditation.
By cultivating fierce honesty and the skills to relate mindfully with our subjective experience, we develop the integrity to live as part of a healthy, self-aware ecosystem.
What is Social Meditation?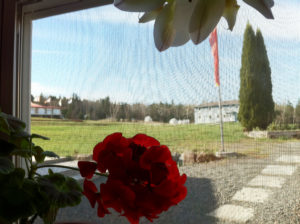 Social Meditation turns social interaction into a meditation practice. It is a way of practising community as a living gesture. We are invited to speak from the heart and share our perceptions. which helps us go forward with fresh eyes while honouring our pain and compassion.
The practice of social meditation trains us to touch deeply into what we are feeling in the moment, speak bravely from that place and offer our deep listening to others. We learn to sit with what comes up for ourselves and others with dignity, curiosity and compassion. Our actions then arise from this place, naturally aligning with our values and love for the world.
Because Social Meditation facilitates emotional resonance in groups, it helps practitioners connect with their own and the larger group's wisdom. This generates a culture of care that is a powerful support for individual practice, and provides a feeling of belonging and
learning within community that makes our lives more joyful, meaningful, and sustainable.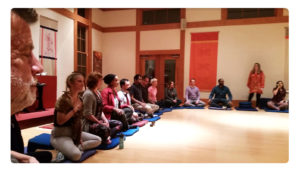 (Explore more about Social Meditation.)
Never doubt that a small group of thoughtful, committed,  citizens can change the world. Indeed, it is the only thing that ever has.      – Margaret Mead
Who Should Attend
Everyone is welcome to attend this retreat; no previous experience is required!"
Partial attendance is an option, but it is preferred that the participant begin with the start date of the retreat.
Please email the Program Manager if you have any questions in this regard.
Come bravely to be in this communal experiment in not turning away, this experiment in
connecting with an open heart, your own and others.
Tuition
$350 CAD 
Useful Links
Participant Info
How to Get Here
Financial Aid Form
Sign up for the Dorje Denma Ling Newsletter
Leader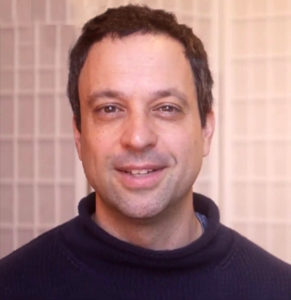 Nick Kranz
Nick Kranz has been a student of Buddhism since 1997. He has developed an approach to cultural transformation with the practice of Social Meditation Learn more at www.nickkranz.com. Teacher Nick Kranz is an experienced and dynamic meditation teacher with a passion for sharing authentic wisdom. He's interested in social innovation, cultural transformation, and collaborative business that positively impacts society. Skillful Guide After 20 years of deep training in the practice of meditation, Nick has a profound belief in everyone's potential to explore and benefit from the practice, and is devoted to guiding people along the path with friendliness and skill. He has studied with Khenpo…
Learn more about Nick Kranz