(Online) Joy in Everyday Life (JIEL)
With Shastri Steve Gleich
October 18 - November 15, 2021
Awakening the Heart and Cultivating a Compassionate View in Everyday Life
Five Monday Evening Classes: Oct. 18, 25 & Nov. 1, 8, 15 from 7:00-9:00 pm Atlantic     Time Zone Converter

Note: This is a Way of Shambhala core path program (read more below). The prerequisite for attending is completion of Contentment in Everyday Life (CIEL). Also highly recommended: Shambhala Training  II and/or III.
As our meditation practice expands and we develop trust in basic goodness, we can begin to discover the confidence and personal energy to go forward on the journey. Joining gentleness with discipline leads to a sense of joy. The practical Mahayana Buddhist teachings on compassion can become the inspiration for a life of bravery and freedom from doubt.
What to Expect
Topics presented in this course include:
Compassion and the Mahayana path,
Facing and investigating doubt,
How discipline brings joy,
Training in the Four Immeasurables to think of others kindly and without preconception.
Each Zoom session includes a guided meditation practice, guided contemplations on joy and compassion, conversations and discussions — both in dyads and with the whole class.
Suggested Readings
These suggested readings are optional, but they will enrich the experience of this class:
Smile at Fear;
by 
Chögyam
Trungpa
(Chapter:
Overcoming Doubt
)
Shambhala Sacred Path of the Warrior;
by 
Chögyam
Trungpa
(Ch. 8,9,20)
The Places that Scare You; by Pema Chödrön (Ch. 6,7,8)
Ruling Your World  by Sakyong Mipham (Ch. 10-14).
Cost
Suggested: $108 CDN
Payment is by credit card or e-transfer.
Generosity policy applies. If you are experiencing financial difficulties due to loss of income, please email [email protected] and indicate what you are able to offer for the five-week program. We understand, and would like everyone who is inspired to participate to be able to do so.
If you are able to offer more, your support will be much appreciated.
About the Way of Shambhala
The Way of Shambhala includes Shambhala Training programs I–V, with each training followed by an "In Everyday Life" course that expands upon what was offered in the training. Over the course of a year, these programs introduce the entire Shambhala path. This series offers a glimpse of the Shambhala vision of enlightened society by emphasizing how meditation can impact our daily lives—and from there, how the sanity of meditation can impact our community and our whole society. For a full description and chart of the Way of Shambhala, visit this link.
Joy in Everyday Life is the third of the five weekly courses that accompany the Shambhala Training programs. It is recommended either before or after Shambhala Training III.
Leader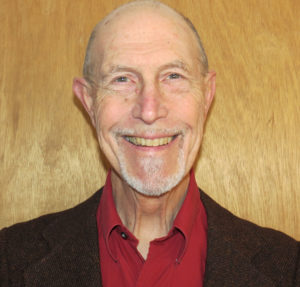 Shastri Steve Gleich
Shastri Steve Gleich feels very fortunate to have received teachings from Chogyam Trungpa Rinpoche and Sakyong Mipham Rinpoche and their senior students and to have been in the Shambhala Buddhist world since 1982. He is now retired from 30+ years career in psychology and mental health and 10+ years career as woodworker. He has been married to Lilly for 38 years, and they are now living in Tatamagouche, Nova Scotia. He continues to volunteer with Dorje Denma Ling, Tatamagouche Shambhala Meditation Group, Dorje Kasung Land Group, and the local food bank.
Learn more about Shastri Steve Gleich