Winter Retreat Opportunities for the 2022/23 Season
Flexible Dates
Book Your Winter Retreat Here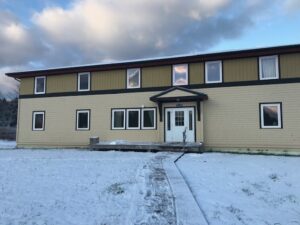 Dorje Denma Ling is pleased to offer individual retreat opportunities this winter in Gyatso lodge.
Retreatants will bring their own food which can be heated with the microwave or hot plate provided. DDL staff will support retreatants with supplemental shopping as needed.
All retreatants are welcome to enjoy the land and walking trails around the property, and access internet.
There is a two night minimum stay. A 15% discount will be applied to registrations 10 nights or longer. The price assumes single occupancy. No outside visitors are permitted.
Your practice during retreat is your choice.
The retreat area includes two heated rooms: one bedroom and one practice room, a shower and bathroom area, and food prep area (a small kitchenette) with a refrigerator, toaster-oven, hot plate, microwave oven and sink.
The practice room will have a box or furniture appropriate for a shrine set up, as well as a gomden, zabuton and chair. Shrine set up is the responsibility of the retreatant.
Offering substances (e.g., incense, candles, etc.) are also the responsibility of the retreatant. However, we have ample bowls (including sand or salt) and votive holders, etc. you can use if you prefer not to bring those with you.
The retreat space is open from December 01, 2022 through to March 31, 2023. Choice of dates is on a first-come, first-served basis, and is managed by our booking software.
Cost: $65 per day
15% discount applies for minimum stays of 10 days.
Please tell us in the comments what sort of retreat you are planning on the registration form so that we understand what kind of support you might require.