Shambhala Art – Coming to Your Senses
With Stéphane Bédard
September 14 - 16, 2018
The practice of dharma art is a way to use our lives to communicate without confusion the primordial and magical nature of what we see, hear, and touch. — Sakyong Mipham Rinpoche

First thought is best in art. — William Blake

Part One: Coming to Your Senses
The creative process has more to do with perception than talent. It requires that we first perceive our world as it is before we can represent it in some form or use it as a launching pad for expression. Meditation helps this process by clarifying our perceptions, relaxing our relentless self-dialoguing, and revealing the source of creativity. Through meditation, we also learn that we can rest in "square one," a state of mindfulness and awareness where our mind, body, and environment are synchronized and self-expression can transform into pure-expression.
Shambhala Art is a hands-on approach to creativity. This weekend retreat will consist of short meditation sessions and exploratory exercises using collage, poetry, and object arrangement.
For more information about Shambhala Art, visit the website Shambhala Art.  Also see the Spring 2017 Shambhala Art Newsletter for an article by Stéphane Bédard entitled If Sun Meets Wind, on the creative process.
Stay tuned for registration and pricing.
USEFUL LINKS
What to Bring & Expect at DDL
How to Get Here
Financial Aid Form
Leader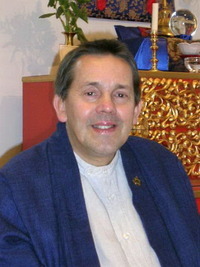 Stéphane Bédard
Stéphane Bédard is a student of the renowned Ikebana Master Seibi Watanabe Sensei. He has been teaching Ikebana (the Japanese art of flower arranging) since 1987. A senior Shambhala Art Teacher in the international Shambhala Buddhist Community, he also teaches Shambhala Art workshops, the Way of Shambhala programs, and holds the title of Kalapa Ikebana Master Instructor. Stéphane lives in Montreal, and regularly travels to teach in various locations, including Nova Scotia, where he has dedicated students.  
Learn more about Stéphane Bédard