Being Tara: Transcending Fear through Song and Dance
With Kristine McCutcheon
May 28 - 30, 2021
Please Note: we cannot accept visitors from outside of the "approved regions" specified by the Nova Scotia Government. Please check the current Travel Guidelines on our homepage before registering. 
Tara is a Buddhist female deity of compassion who helps practitioners overcome their fears and anxieties. Although she arises in many colours, her most popular energies manifest as peaceful White Tara, who brings healing, long life and tranquillity; and the dynamic Green Tara, who overcomes obstacles, grants wishes and saves beings in situations of adversity.
The practice of Tara is for all of us — whatever stage of life. We will explore various ways of meditating with Tara — including song and dance — in order to go beyond the many faces of fear that confront us in daily life.
Kristine McCutcheon will be leading the practice. She is a householder yogi in the tradition of Shambhala living in Cape Breton — between the mountain and ocean.  She has received the blessing permission from Khenpo Tsultrim Gyamtso to pass on the practice.
What to Expect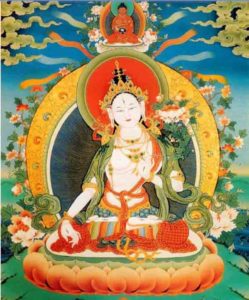 There will be periods of sitting and short discussions and periods of movement and contemplation and singing. The program will be quite fluid with much variation.
We will talk about how we understand and recognize our fears and how we work with them in daily life.
We will be using two different practices.  One that is a classical White Tara sadhana in english by Mipham Rinpoche, and the other which is song and dance as taught by Khenpo Tsultrim Gyatso Rinpoche.
Who can Attend?
Anyone can attend. Feel free to bring a friend.
Anyone who is seeking to go beyond personal fears and anxiety.
Especially welcome are those with beginners mind who are open to exploring meditation in motion.
What to Bring
Wear comfortable clothes and, if you have one, bring a flowy scarf.
Bring your text if you have one. Otherwise, there will be a small charge to purchase a copy of the text.
A teaching gift is a traditional offering one makes when receiving permission to receive a practice, which consists of a reading of the practice text (lung) by an authorized practitioner.
Tuition
Tuition: $119
Meals: $40
Accommodations: Additional. (See Registration Form for Details)
Repeaters will receive a 50% discount on the tuition portion ($59.50).  If you are a repeater, simply email Guest Services for the discount code to enter during registration.
IMPORTANT NOTE ABOUT ACCOMMODATIONS
We are temporarily offering a discounted single occupancy rate on accommodations for those attending alone. This option defaults to a room in the Lodge. However, if you choose a single in a cabin or tent, we will adjust your invoice to reflect the Covid rate.
ONLY CHOOSE DOUBLE OCCUPANCY IF you are attending the program with a friend or partner, otherwise you may still be charged the single price for the room, cabin, or tent.
White Tara Sadhana
You may practise White Tara with the group, but in order to receive a copy of the text to practise on your own, you must have taken refuge and received the lung. The lung will be offered at the program.
Those who have taken refuge may purchase the White Tara Sadhana, written by Sakyong Mipham, Rinpoche, if they wish to. Copies will be available for sale for $14 + gst.  If you have taken refuge, you can opt to purchase the Sadhana on your registration form under "Optional Items," and the cost will be added to your Guest Statement.
Useful Links
What to Bring & Expect at DDL
How to Get Here
Financial Aid Form
Leader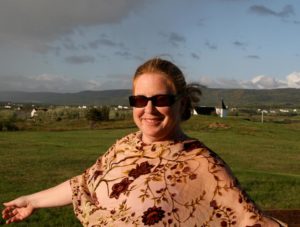 Kristine McCutcheon
Kristine McCutcheon is a householder yogi in the Shambhala tradition.  Whose buddhist practice includes completing a 3 year retreat, studying with Ven. Thrangu Rinpoche, Khenpo Rinpoche, Pema Chodron and her heart teacher Sakyong Mipham Rinpoche. Kristine lives with her husband in Cape Breton between the mountain and ocean.
Learn more about Kristine McCutcheon