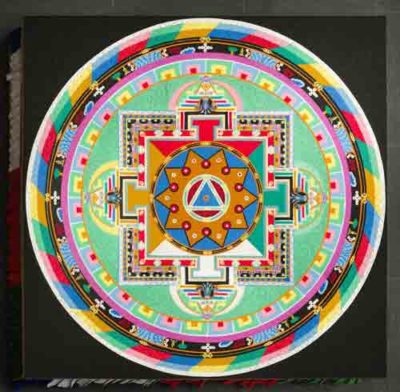 Celebrating the Vajrayana
with Christie Cashman
"The ground is gold, and the path is gold mixed with impurities that are slowly being purified, and the fruition is buddhahood." -- Tulku Ugyen

The vajrayana teachings are renowned for providing the strongest medicine in times of the greatest confusion. But it's also during these times that practices such as invoking the deity, resting in the nature of mind, or engaging in sacred perception can feel very remote. Throughout this five-day retreat, we will explore how wrathful, peaceful, and effortless vajrayana methods "touch the fruition," and thus remind us of our inherent wisdom.
We'll engage in practices such as Vajrakilaya, White Tara, and mahamudra, and separately practice Werma, ngöndro, Scorpion Seal. The program will include discussions with each group of practitioners, talks and personal interviews with the acharya. Lungs will be given for Sakyong Mipham Rinpoche's White Tara and The Short Daily Practice of Vajrakilaya by Mipham the Great—more information to follow.
Discussion Topics Include...
Co-emergent wisdom: Making direct contact with confusion in order to liberate it

Heart message of Yeshe Tsogyal and Padmasambhava

Remembering our Vajrayana training as we near death

The Heart Sutra as the basis and protection for the Vajrayana

Awakening to luminosity and limitless perception
Prerequisites...
Sacred World Assembly or Vajrayana Seminary

Vajrayana students who have not attended one of these programs but wish to attend should email the Program Manager with more information.
Partial attendance is welcome, but we cannot offer on-site lodging at this time. If you wish to attend part of the retreat please follow these registration steps:
Register using the "Live or Staying Locally" housing option.
Add the dates you will be attending in the appropriate registration area.
For payment method, select "E-Transfer or Cheque." This will by-pass any need to pay for the full deposit.
When your registration comes through, your Guest Statement will be adjusted for you to reflect the correct number of days.
You can use the Guest Statement link in the registration confirmation email to make a deposit. Note: your registration is not confirmed until a deposit has been received, and space is limited.
Useful Links
What to Bring & Expect at DDL
How to Get Here
Financial Aid Form