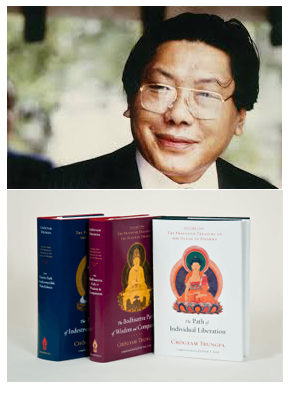 Profound Treasury: Entering the Path
with Catherine Neill
This class will be based on teachings from Volume I of The Profound Treasury of the Ocean of Dharma, the teachings of Chogyam Trungpa Rinpoche.
Join the Dorje Denma Ling staff as they begin their season of practice and study together. In 2020, we will be exploring the teachings of the Hinayana as taught by Trungpa Rinpoche. During this weekend we will look at our motivation to practise meditation, then begin discussing qualities of a dharmic path and what it means to take refuge in the three jewels.
All are welcome to join us! It is a great way to refresh your understanding of these profound dharma teachings.
Finances
Dorje Denma Ling has a large daily overhead that we would like to cover whenever possible. However, we do not want to turn anyone away who wishes to come because of financial considerations. If the In-House Retreat prices or Shrine Room floor option shown below won't work for you, please email Guest Services with the amount you would be able to pay, and we'll adjust your Guest Statement to reflect that price.
Comments or Special Needs Field
If you have a preference for the Lodge or a Drala Cabin, please enter that information in the "Comments or Special Needs" field.
We would like you to spend the weekend with us, but if you can only attend one day, please register and leave a comment indicating which day we should expect you. We will adjust your Guest Statement accordingly.