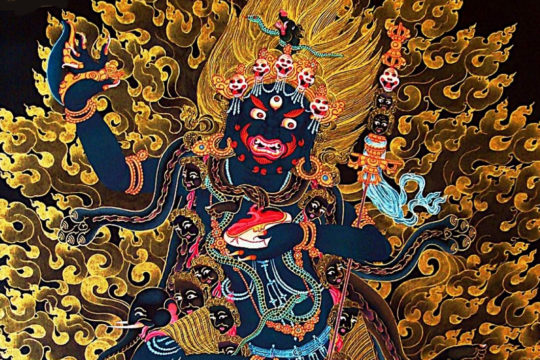 Krodhikali Weekend (On-land and Online)
with Mark Nowakowski
The Play of the Great Secret Dakini
A Terma of the Vidyadhara
Chögyam Trungpa Rinpoche
Krodhikali Practice and Study Weekend
with Mark Nowakowski
May 21-23, 2021
Krodhikali, the Black Wrathful Lady, is the completely wrathful form of Vajrayogini.
The prophecy of this terma precisely describes these current dark times of rampant disease, societal injustice and upheaval, and environmental destruction. Its compassionate practice is essential and helpful to all beings. Open to Vajrayogini practitioners who already have the lung, and for those who receive the lung in-person at the weekend. [NB:Last sentence added for initial blurb on the Programs Listing page.]
Sixty years ago, the Vidyadhara Chögyam Trungpa Rinpoche discovered this dzokchen terma of Krodhikali in Tibet. The Nalanda Translation Committee translated this with the guidance of Karma Senge Rinpoche and he gave the abhisheka to us in 2013. On our last visit with him in 2019, he strongly encouraged us to give the reading transmission (lung) and practice this with Vajrayogini sadhakas. He also gave his permission for people to practice online with a Vajrayogini sadhaka who has received the abhisheka.
During this combined in-person and online weekend, the lung will be given to people present, and we will practice and study the sadhana together with people online who already have the lung. To make this workable for in-person and online together, there will be 5 teaching with Q&A discussion sessions and 5-7 online practice sessions, each 1 - 1 2 hrs long. Exact times to be announced.
During the summer and fall of 2020, Mark taught the entire sadhana over 16 weeks, after weekly online practice sessions. In our practice and study, we will focus on the meaning and meditation, so the use of ritual vajrayana implements is not necessary.
Students with the lung should purchase the sadhana from the Nalanda Translation Committee here, as we will not be scrolling the text online.
Practice Requirements:
To practice this, you need to receive either the abhisheka from Karma Senge Rinpoche or the lung from someone who has received the abhisheka.* To receive the lung in-person (not online), you need to be a Vajrayogini practitioner with a strong connection to Trungpa Rinpoche.
*[NB: This req. could change before the retreat.]
Students who have received the abhisheka from Karma Senge Rinpoche can practice on their own. Students with just the lung can practice only in a group setting, either in-person or online, with an abhisheka recipient present.
Beginning last January 2020, to facilitate group practice, Ocean and the Nalanda Translation Committee has been offering an online Krodhikali practice every Friday at 2pm Atlantic Time (AST). You are welcome to join us any Friday in the Ocean Vajrayana Shrine Room.
To Register:
Useful Links
What to Bring & Expect at DDL
How to Get Here