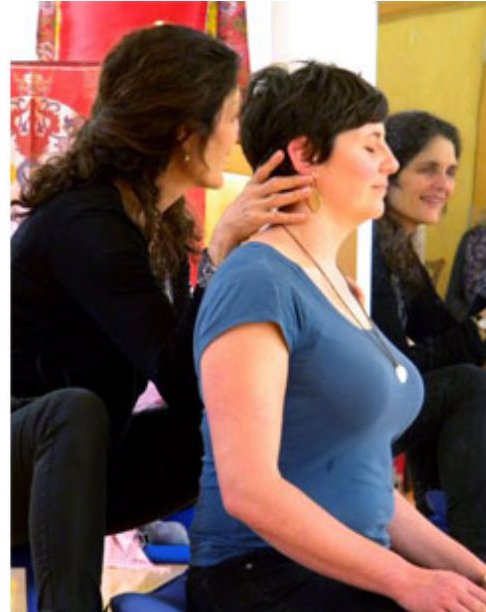 The Shape of Awake®: Meditation and the Alexander Technique
with Hope Martin
To take this posture itself is the purpose of our practice. When you have this posture, you have the right state of mind, so there is no need to try to attain some special state. – Suzuki Roshi
Being upright is not just an arbitrary shape, it's a perfect expression of meditation itself. In this 5 day meditation retreat, Hope Martin, a Master Teacher of the Alexander Technique, will help you establish ease, non-striving, and a friendly relationship to yourself in meditation and everyday activities. Her hands-on work makes subtle adjustments to the head, neck and back to access effortless, balanced posture – both light and grounded.
Principles from the practice of Focusing will be introduced to befriend habitually stuck places and to access the wisdom that resides in the holding pattern. Become aware of unconscious habits that result in tension, pain, fixed posture and mindset and shift to a more expansive, balanced and joyful way of being.
Learning to be more embodied, letting go of excessive tension, and allowing your nervous system to settle provides a powerful foundation to navigate the challenges of this time of uncertainty and change. The hallmark of the Alexander process is a quality of being that is expansive, balanced and open. It is the shape of equanimity. When strong emotions or anxiety arise, abiding in your body, free of protective holding patterns, allows you to access your fundamental resilience and meet all aspects of your experience.
Discover how being fully present and at ease in your body transforms your practice and your life! This experiential retreat offers a safe, supportive and caring environment to learn about and befriend yourself, and to deepen your meditation practice.
Open to new and experienced practitioners.
Overview of Schedule (ADT)
Friday, September 9 (Arrival Day)
Please try to arrive before 5pm to settle in before dinner if you are able to.

Dinner is at 6:30.

There will be an orientation session at 7:45 after dinner.
Saturday. September 10 - Friday, September 16
Full program days from 8:00 am to 6:30 pm (with breaks for meals and personal time)
Friday will end at 3:00 pm
For Those Leaving Friday, Sept. 16
If you are NOT staying over for the Embodied Listening weekend, departure time is after 5:00 pm on Friday.
You may also depart Saturday morning, Sept. 17 if you are travelling and that is more convenient for you.
HOWEVER, if you are staying over Friday night, you will need to add an additional night (Sept. 18) to your registration. Otherwise your room could be booked by someone coming just for the weekend.
If you are staying for Embodied Listening, there is no need to adjust your registration stay. You are booked in for that evening.
A more detailed schedule will be posted when you arrive.
Program Cost
Tuition: $450
Food: $100
Accommodations: Extra. (Please see the Registration Page for a list of options.)
Participants who enrol in both the Shape of Awake® and Embodied Listening® programs will receive a 15% discount on the tuition portion of both retreats.
Testimonials
I learned so much about myself, and began the journey of accepting myself and holding myself in compassion. Now, I can be kinder to those around me, because I can be kind to myself. -- Kate Smith
Shape of Awake transformed my relationship with my meditation practice and with my world. I feel more open, vulnerable, and available, while also feeling freer and more grounded. Hope's clarity, directness, heartfulness, and deep experience were a powerful combination and a sorely needed antidote to the rampant disembodiment in our culture. -- Miles Buklet
What I learned in the retreat was immediately useful and very interesting. Hope helped our group experience the truth of 'embodied wisdom.' She was warm, compassionate, grounded, professional, and deeply informed. Her approach to the body perfectly parallels the compassionate self-observation we are engaged in as meditators. -- Celena Matsen
Hope's gentle encouragement to work with my physical and emotional discomfort helped me develop greater awareness of my recurrent holding patterns, greater trust in my body's wisdom, and greater capacity to relax. As someone who had always armoured up to meet adversity, I have learned that I can drop the armour and engage difficult situations with greater gentleness and patience. -- Mark D.