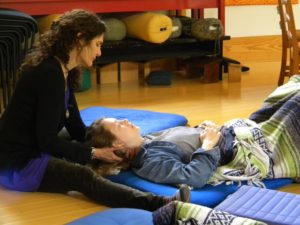 Embodied Listening®
with Hope Martin
Cultivating the Wisdom of the Body
Embodied Listening® offers a way to move through blockages, challenges and uncertainty by tuning into your most reliable source for guidance — the wisdom of your body.
In this time of challenge and upheaval, learning to be present to your body's inherent knowing is an essential skill.
During this retreat, we will draw on three contemplative practices that cultivate insight, compassion, and confidence:
Mindfulness Meditation to relax mental holding patterns
Alexander Technique to release physical holding patterns
Mindful Focusing to access deeper feelings held in the body
This highly experiential workshop is held within a safe and supportive environment and includes periods of meditation, exploration of the felt sense, gentle hands-on bodywork, sharing together and humor.
Testimonials
This workshop was a rich, rewarding and powerful blending of 3 practices that all seek to bring awareness and balance to the knowing body. I came away grateful for much that I will carry into both my personal and professional life and I recommend it highly. -- Sharon Andrews
Embodied Listening helped me to deepen my sitting practice and move into a more respectful rapport with some deep parts of myself that had been asking for my attention. How obvious and radical it is that contact with the felt sense is profoundly assisted by an aligned structure, support from the earth and a deeply embodied experience. -- Alexis Honiotes
I find Hope to be a very skilled teacher with a strong intuitive sense of how to work with each individual. Her Alexander work is deep and subtle, and has been extremely helpful in deeply understanding some of the principles of meditation posture that had eluded me for many years. -- Michael Chender
Overview of Schedule (ADT)
Friday, September 16 (Arrival Day)
Please try to arrive before 5pm to settle in before dinner if you are able to.

Dinner is at 6:30.

There will be an orientation session at 7:45 after dinner.
Saturday & Sunday
Saturday: 8;30 am to 6:30 pm (with breaks for lunch and personal time)
Sunday: 8:30 am to 5:00 pm
Departure Sunday, September 18
You may also depart Monday morning, September 19 if you are travelling and it is more convenient for you.
HOWEVER, if you are staying over Sunday night, you will need to add an additional night (September 18) to your registration to secure the room and let us know you will be staying over.