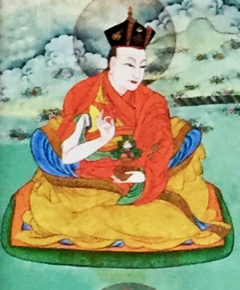 Mahamudra Datun: Cultivating Stillness and Insight
In the mandala of mahamudra
Shines moonlight, pure and all-pervading
All apparent phenomena are the play of the mind.
All qualities are complete within the mind.

- Chögyam Trungpa; Sadhana of Mahamudra
Please join retreat leaders Elizabeth Callahan, Scott Wellenbach and Nancy Huszagh who are pleased to present a third intensive mahamudra retreat for 2021.
The retreat will follow a traditional three-year retreat format with four practice sessions per day, although the schedule is somewhat more relaxed.
Scott Wellenbach will lead the shamatha mahamudra for one week; Elizabeth Callahan will teach the vipashyana investigations for one week, and Nancy Huszagh will lead the practice and discussion during the alternating weeks.
Our main practice text is the ninth Karmapa Wangchuk Dorje's Pointing Out the Dharmakaya, translated by the Vajravairochana Translation Committee. In addition we will use: Crying to the Guru From Afar by Jamgon Kongtrul, Lodro Thaye. You can purchase both texts and commentary for Pointing Out the Dharmakaya from Nalanda Translation.
You can purchase both texts and commentary from Nalanda Translation.
Prerequisites Apply
This is a vajrayana program restricted to tantrikas and sadhakas who have received pointing out instruction.
Questions? Wonder if you qualify? Please contact Nancy Huszagh.
Limited Program Size
Due to limited indoor housing at Dorje Denma Ling, we can accommodate only 28 participants at this retreat. If you are interested, please register early to secure your space. We are accepting registrations for full-attendance.
Useful Links
What to Bring & Expect at DDL
How to Get Here