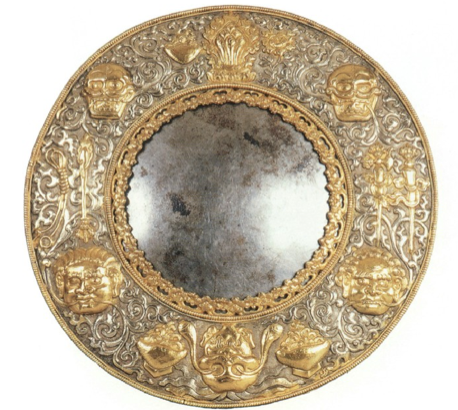 (Online) The Kalapa Teachings of the Druk Sakyong: Reflections in the Cosmic Mirror
With Agness Au, Sarah Coleman, June Crow, Wendy Friedman, Alice Haspray, Marty Janowitz, Derek Kolleeny, Daniel Naistadt, Richard Peisinger, Julia Sagebien and Guests
10 Online Classes, Sundays: Sept. 18 | Oct. 2, 16, 30 |Nov. 13, 27 | Dec. 11 | Jan. 8, 22 | Feb. 5 |
Time: 1 - 3 pm Eastern | 2 - 4 pm Atlantic Time Zone Converter
Optional Discuss Groups on Alternate Sundays: Sept. 25 | Oct. 9, 23 | Nov. 6, 20 | Dec. 4, 18 | Jan. 15, 29 | 1 pm Eastern | 2 pm Atlantic
Werma practice sessions every Sunday at 11 Eastern via Ocean.
Overview
Between 1978 and 1984, the Dorje Dradül of Mukpo (Vidyadhara Chögyam Trungpa Rinpoche) conducted five Kalapa Assemblies -- gatherings for senior students on the Shambhala path.
In this course we will explore this treasury of the Shambhala terma teachings with a spirit of open inquiry, good scholarship, and meditative contemplation.
We will take a unique approach to our study together. We will:
Use the nature of mind teachings as a lens through which to explore the view and practice of the Kalapa teachings, and
Ponder the practicalities of this vision as originally laid out by the the Dorje Dradül.
A sampling of the topics we will explore include:
Non-theism and Dzogchen in everyday life;
The cosmic mirror in everyday experience;
Shambhala culture as an expression of basic goodness;
Vajra politics;
Conquering gracefully, and more.
Class Format
Each class will open with a short practice session, followed by a commentary with one of the faculty, and Q&A.
The alternating bi-weekly discussion sessions are optional, but are provided so that participants have the opportunity to explore each topic more deeply.
Who Can Attend
This is an advanced Vajrayana study program. Participants must have both:
Received pointing out instruction from a qualified vajra master, AND,
Have attended Kalapa Assembly OR Rigden Abhisheka
Otherwise, students can be studying with another teacher, or none, but should bring an open, curious mind and a willingness to practice and study.
Materials
The readings for the course will come primarily from the Collected Kalapa Assemblies and from Robin Kornman's Creating Enlightened Society transcripts. Less well-known sources, such as commentaries by His Holiness Dilgo Khyentse Rinpoche and others, will complement the above.
We will also listen to the Druk Sakyong's Lungta and Ground Mahamudra transmissions, and have an opportunity to explore the symbolic language of these programs via a vast portfolio of photographic images.
If you don't have the Collected Kalapa Assemblies publication, you can purchase it at Kalapa Publications.
The additional materials will be provided for participants in the resources section of the course.
Registration
This course is being offered in partnership through Shambhala Online: their registration software is different from Denma Ling's. You will need to login to your Shambhala Database account to register.
If you are not a current member of Shambhala, you will need to create a non-member account as part of the registration process.
Please click here to access registration.
Price per person: US 200
Patron Price: US 275
Request a discount.