(Online) The Shape of Awake®: Meditation and the Alexander Technique
With Hope Martin
September 10 - 15, 2022
"To take this posture itself is the purpose of our practice. When you have this posture, you have the right state of mind, so there is no need to try to attain some special state." – Suzuki Roshi
Discover how to be fully present and at ease in your body. This will transform your practice and your life! This experiential retreat offers a safe, supportive and caring environment to learn about and befriend yourself, and to deepen your meditation practice.
Learning to be more embodied, to let go of excessive tension and allow your nervous system to settle, provides a powerful foundation for navigating the challenges of this time of uncertainty and change.
The Alexander process brings a quality of being that is expansive, balanced and open. It is the shape of equanimity. When strong emotions or anxiety arise, abiding in your body, free of protective holding patterns, allows you to access your fundamental resilience and meet all aspects of your experience.
What to Expect
Being upright is not just an arbitrary shape, it's a perfect expression of meditation itself. In this 5 day meditation retreat, Hope Martin, a Master Teacher of the Alexander Technique, will help you establish ease, non-striving, and a friendly relationship to yourself in meditation and everyday activities. Learn to be more upright, supported, and relaxed in your meditation sessions and in your life.
Hope's guided adjustments and instruction will teach you to access effortless, balanced posture – both light and grounded. This helps to greatly reduce the strain and discomfort that is experienced during extended periods of meditation practice.
You will become aware of unconscious habits that cause tension and pain as a result of fixed posture and mindset and learn to shift to a more easeful way of being.
Principles of Focusing will also be introduced to help loosen our habitually stuck places and to access the wisdom that resides in the body's holding patterns.
In addition to meditation practice, the program will include periods of silence, experiential exercises, instruction on basic body mechanics and alignment, humour, as well as gentle hands-on work from the instructor to help release unnecessary tension.
Who Should Attend
Everyone is welcome to attend this retreat. Meditation instruction, guided practice and individual posture adjustments will be provided.
The retreat is ideal for both new and experienced meditators.  It will address any physical discomfort associated with sitting and everyday movements. This results in much more ease and presence in the practice and in everyday activities.
You will also learn to accommodate all your responses, including anxiety and stress and to release emotional reactions that get stuck in the deep holding patterns of the body.
Overview of Schedule (Atlantic Time)
All times listed are in Atlantic Time. If you live outside of the Atlantic Canada region, please check the time Zone Converter to calculate the time in your area.
Important Notes Regarding the Online Session Schedule
The teachings are progressive, so please begin at the beginning, and attend sessions in order if possible. Hope will do a brief review of the previous session at the beginning of each class.
Please try to attend all teaching sessions. During the teaching sessions, Hope will be taking questions, observations and making suggestions for adjustments.
Attend as many practice sessions as possible, as there will be some guided meditation instruction and guided laying down practice. Guided meditations will be recorded.
Links to recordings will be posted on the Online Program Resource Page if you miss a session.
You should make an effort to view recordings for any missed session before the next teaching session if possible. (The  Zoom Coordinator will take special care to upload recordings at the next meal or session break.)
September 10
 7:45 Atlantic: Orientation & Opening Talk
September 11-15
Morning 
7:00 – 8:00: Optional (Outdoor Contemplative Practice)
8:00 – 9:15: Breakfast Break
9:15 – 10:00: Meditation Instructions and Posture Adjustments
10:00 – 12:30: Teaching Session
12:30 – Lunch Break
Afternoon
2:00 – 2:30: Meditation Practice
2:30 – 4:00: Teaching Session
4:00 – 4:30 Tea Break
4:30 – 6:00: Meditation Practice with Posture Correction, Guided Lie-Down & Discussion
6:00 – 7:45 Dinner Break
7:45 – 9:00 Evening Activity or Session (Optional. Join if Time Zone permits.)
NOTES:
There will be breaks offered during scheduled sessions.
The final Teaching Session on September 15 will be a half hour longer, and the retreat will end at 4:30 pm Atlantic.
Program Cost
Tuition: $450 CAD
Participants who enroll in both the Shape of Awake® and Embodied Listening® programs will receive a 15% discount on the tuition of both retreats. We will adjust your Guest Statement when you register.
Testimonials
Shape of Awake transformed my relationship with my meditation practice and with my world. I feel more open, vulnerable, and available, while also feeling freer and more grounded. Hope's clarity, directness, heartfulness, and deep experience were a powerful combination and a sorely needed antidote to the rampant disembodiment in our culture. — Miles Buklet
What I learned in the retreat was immediately useful and very interesting. Hope helped our  group experience the truth of 'embodied wisdom.' She was warm, compassionate, grounded, professional, and deeply informed. Her approach to the body perfectly parallels the compassionate self-observation we are engaged in as meditators. — Celena Matsen
Hope's gentle encouragement to work with my physical and emotional discomfort helped me develop greater awareness of my recurrent holding patterns, greater trust in my body's wisdom, and greater capacity to relax. As someone who had always armoured up to meet adversity, I have learned that I can drop the armour and engage difficult situations with greater gentleness and patience. — Mark D.
I find Hope to be a very skilled teacher with a strong intuitive sense of how to work with each individual. Her Alexander work is deep and subtle, and has been extremely helpful in deeply understanding some of the principles of meditation posture that had eluded me for many years. — Michael Chender
Leader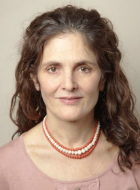 Hope Martin
Hope Martin has taught the Alexander Technique for 35 years, trained Alexander teachers for over two decades at the American Center for the Alexander Technique, and operates Hope Martin Studio in New York City. She is a Meditation Instructor, a Focusing trainer and has been a close student of Pema Chodron for 30 years. Her particular passion is in helping her students discover how easeful, upright posture is an expression of their human dignity, confidence, and innate wakefulness. To learn more about Hope's work, visit hopemartinstudio.com
Learn more about Hope Martin