Chöd Training & Practice: Severing Attachments to Obstacles
With Kristine McCutcheon
September 27 - October 1, 2019
Chöd is a powerful Vajrayana practice founded by Machik Lapdron in 11th century Tibet that couples Buddhist philosophy with indigenous Tibetan shamanic traditions. Chöd literally means "cutting" — cutting through our obscurations, cutting ego-grasping and fixation and then offering our entire being to pacify the suffering of all beings. It is also valued as a special system of spiritual healing.
Chöd practice was given to our sangha by Khenpo Tsultrim Gyamsto Rinpoche during the summers he visited Karme Chöling and Dorje Denma Ling. We use the English translation of the Surmang Chöd practice text prepared by Elizabeth Callahan with music composed by Ellen Green and Jean Thies, as requested by the Khenpo. Khenpo gave permission for his students who have been practising Chöd regularly to give the lung for this practice to Shambhala vajrayana students.
The retreat is open to vajrayana students who wish to learn the practice, as well as to experienced Chöd practitioners. Kristine McCutcheon will give the lung, and provide instructions for the sadhana and music. Participants may choose to participate in one of the following ways:
Friday evening talk. All vajrayana practitioners are invited to attend the introductory talk on Friday evening at 7:30. This will give an overview of Chöd practice, cover the history, and explain why this is a standalone lineage. (No charge. Donations are welcome. Please register and select this option.)
Friday – Sunday: Participate in the entire weekend to receive transmission and training, for the Chöd sadhana. This includes learning the melodies for the sadhana, and practice with the Chöd instruments. New practitioners must attend at least the Friday to Sunday portion of the retreat. ($168.00 / Repeaters half price – $84.00)
Monday – Tuesday: Experienced practitioners are welcome to gather at Dorje Denma Ling for Chöd practice. Attend one or both days – as you wish. ($30 per day)
Full Retreat: Friday – Tuesday: Polish and deepen your Chöd practice by attending the entire retreat. ($228 / Repeaters $144)
Copies of the liturgy will be available for purchase ($25) which covers printing and a donation to the translator. Please indicate on your registration whether you intend to purchase a copy of the text.
Schedule
Friday: 6:30 Dinner & 7:30 Talk
Saturday to Tuesday: 7am – 9pm, with Chöd Instructions and Practice from 9am to 6pm
7-8 am and 7:3-9 pm sessions are optional
Who Can Attend
Experienced Chödpas
Aspiring Chödpas who have received Vajrayogini abhisheka or who finished a ngöndro and has permission from their teacher.
What to Bring
If you have a Chöd drum, please bring that. If you don't bring your damaru.
Bring a bell.
Bring a mala.
If you have extra bells, Chöd drums or damarus, please bring those along to lend to a few people who might not have these implements.
If you have questions about whether you can attend, please contact Kristine directly at [email protected]
Leader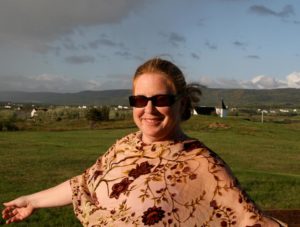 Kristine McCutcheon
Kristine McCutcheon is a householder yogi in the Shambhala tradition.  Whose buddhist practice includes completing a 3 year retreat, studying with Ven. Thrangu Rinpoche, Khenpo Rinpoche, Pema Chodron and her heart teacher Sakyong Mipham Rinpoche. Kristine lives with her husband in Cape Breton between the mountain and ocean.
Learn more about Kristine McCutcheon