Work Weekend 2022: Not exactly a party, but it's fun!
June 4 - 5, 2022
Join us for a weekend of work and relaxation to refresh our space for the 2022 season!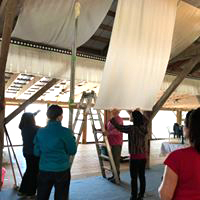 As is customary at Dorje Denma Ling, we schedule a Saturday and Sunday work gathering in the spring to help us prepare for program guests arriving soon. All willing workers are welcome — there's more than enough to do, and jobs available that will suit all talents and skills.
Of course we host volunteer workers for free, feed them well and give them a Program Credit of $35 per day to use towards a retreat of their choice.
Saturday evening will likely involve a campfire or karaoke depending on the weather. We could fit in a good movie too!
Everyone is welcome, and whole families have been known to come from the city to enjoy some time in nature with a vast number of deer, as well as a few humans. Many hands make light work — plus, you are guaranteed to have some fun.
But do register please, so we can make sure we have a cozy bed and plenty of delicious food ready for you!
See you Saturday morning at 10 AM in the main shrine room for a short sitting, followed by a work meeting to launch the event.
Some Projects That Might Interest You?
Repairing our garden fence to keep the deer out
Making our boardwalk safe for walking
Washing windows in our shrine rooms
Rebuilding trails through our forest
Please Note These Boring But Necessary Details
Be sure to enter all the names and email addresses on the registration form for the people in your family or group. We will assign your lodging.
Before coming, please do check our current Covid guidelines.