The Shape of Awake®: Weekend Only Registration
with Hope Martin
June 23 - 25, 2023
"To take this posture itself is the purpose of our practice. When you have this posture, you have the right state of mind, so there is no need to try to attain some special state." – Suzuki Roshi
Are you uncomfortable or in pain when you meditate? Is it challenging to sit for long periods of time? Or is it just hard to stay present?
Discover how being fully present and at ease in your body transforms your practice and your life! Being upright is not just an arbitrary shape; it is a perfect expression of meditation itself.
In this weekend workshop, Hope Martin, a master teacher of the Alexander Technique, will help you discover ease and non-striving in meditation and other activities. Her hands-on work makes subtle adjustments to the head, neck and back to help you access an effortless, balanced posture – both light and grounded.
The process teaches awareness of habits that result in pain, fixed posture and mind-set, and shows us how to shift to a more open, balanced way of being that is our birthright. It's not about improving or getting away from anything. Rather, by learning about and honouring the many moments of response that are our habits, we become actively engaged in the process of befriending ourselves and making changes that better support us.

What to Expect
The workshop includes instruction on basic body mechanics and alignment, experiential exercises and hands-on adjustments from the instructor to help improve your posture and release unnecessary tension in your meditation practice and in your life.
New and experienced meditators are welcome. Meditation instruction will be provided.
"The work with Hope dramatically improved my practice because sitting correctly I can better stay present." – Judy Cameron

Overview of Schedule (Atlantic Time)
June 23  (Arrival Day)
Check-in is open from 3:00 p.m. – 6:00 p.m. Please try to arrive before 5pm to settle in before dinner if you are able to.

Dinner is at 6:30.

There will be an orientation session at 7:45 after dinner.
June 25
Departure after dinner on Sunday.

Weekend Cost
Tuition: $225 CAD
Food: $40 CAD
Accommodations: Extra. (Please see the Registration Page for a list of options.)

Scholarships and Payment Plans

Dorje Denma Ling has a scholarship fund available for those in need of financial assistance. This fund has been created through the generosity of our loyal supporters.
If you need assistance, please fill out and return the financial aid form or contact our Finance Manager, Suzy Ulrich. This fund is limited, and will be offered on a first-come, first-serves basis, so please apply promptly if you need assistance.
If you don't need assistance, but would prefer to spread your payments out over a number of months to ease cashflow issues, please contact Suzy Ulrich and she can set that up for you.

Covid Considerations 
Please read the full details of our Covid policy here.
Leader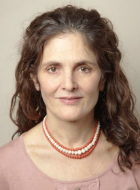 Hope Martin
Hope Martin has taught the Alexander Technique for 35 years, trained Alexander teachers for over two decades at the American Center for the Alexander Technique, and operates Hope Martin Studio in New York City. She is a Meditation Instructor, a Focusing trainer and has been a close student of Pema Chodron for 30 years. Her particular passion is in helping her students discover how easeful, upright posture is an expression of their human dignity, confidence, and innate wakefulness. To learn more about Hope's work, visit hopemartinstudio.com
Learn more about Hope Martin