Kalapa Ikebana: The Art of Flower Arranging
With Stéphane Bédard
September 7 - 9, 2018
Ikebana is the Japanese art and contemplative practice of flower arranging dating back to the 6th century. As a "meditation in action," Ikebana helps us connect to the present moment and wakes up our sense perceptions. Ikebana arrangements are both beautiful and thought-provoking, and practitioners of this ancient discipline experience it as profound, enriching, and deeply satisfying.
The Art of Ikebana retreat is a Kalapa Ikebana program, which means it is based on Shambhala Art principles. The program will consist of demonstrations and hands-on practice under the close guidance of Ikebana Master Stéphane Bédard. Instructions and guidance will be tailored to the participant's level of knowledge, so you are welcome to attend whether you are a beginner or seasoned Ikebana student.
Please note: Participants should bring clippers. If possible, also please bring containers (10 to 12 inches in diameter) and kenzans (2 inch diameter minimum).
You will be able to take your arrangements with you and reconstruct them at home, so it would be preferable to have your own containers. However, Dorje Denma Ling does have limited quantities on hand if you do not have access to suitable containers.
There is a strict limit on the number of participants for this program, so register early if you intend to come!
USEFUL LINKS
What to Bring & Expect at DDL
How to Get Here
Financial Aid Form
Leader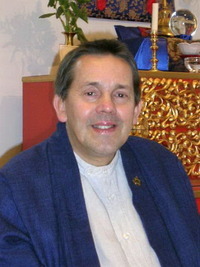 Stéphane Bédard
Stéphane Bédard is a student of the renowned Ikebana Master Seibi Watanabe Sensei. He has been teaching Ikebana (the Japanese art of flower arranging) since 1987. A senior Shambhala Art Teacher in the international Shambhala Buddhist Community, he also teaches Shambhala Art workshops, the Way of Shambhala programs, and holds the title of Kalapa Ikebana Master Instructor. Stéphane lives in Montreal, and regularly travels to teach in various locations, including Nova Scotia, where he has dedicated students.  
Learn more about Stéphane Bédard