Weekend Participation: Radiating the Great Eastern Sun
With John Rockwell, Eve Rosenthal, Barbara Bash and Basia Solarz
August 19 - 21, 2022
We are so fortunate to have encountered the Shambhala teachings in this lifetime. Given the remarkable challenges facing the world, there is no better moment to embody and radiate the Great Eastern Sun in our heart.
For many of us, it has been a while since we have gathered in person and had the support of others in strengthening our resilience and contemplating how to manifest our warriorship for the benefit of this world.
What to Expect
In our time together, we will take the practices of sitting meditation, arousing compassion and windhorse as our common ground. We will have the opportunity to engage the senses and explore the enriching arts of calligraphy, qigong, music and more. This retreat will offer a balance of structured practice, activities, conversation, and personal time that you can participate in according to your energy and interest.
Practices and activities will be done both inside and outside. With the support of the natural world at Dorje Denma Ling, we can embrace the freshness of the moment and exhale.
John will be offering space for the heart and senses through compassion practices and sitting and walking in the woods.
Eve will be offering exercises that free the energy flow in the body,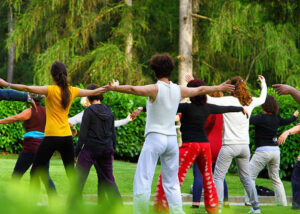 cultivate the chi, and connect us with heaven, earth and the environment. These exercises come from the tai chi and qigong lineages of Cheng Man-Ch'ing and Dr. Wu.
Barbara will be offering a grounding brush practice in the making of a single line as well as a big brush process guided by the principles of heaven, earth and human in the making of a mark. Her illustrated journaling teaching — drawing and writing together in nature — utilizes the elements of sky, earth, and heart to reveal what is true in the moment. Through it all is the interweaving alive conversation with one's self and the world.
Basia will be sharing practices from Pauline Oliveros' body of work called Deep Listening to help us to learn how to direct our attention to the interplay of sounds and silences and discover greater creativity in life and art. Through activities like multidimensional listening, sound play, and rhythm circles,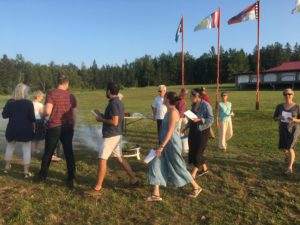 we'll explore listening as a way to create new patterns, stretch beyond current patterns, and use old patterns in new ways.
Who Should Attend
This retreat is for anyone with a connection to the Shambhala teachings regardless of practice level or how active or inactive you have been recently. You are welcome here.
You are welcome to come for the full opening weekend or the entire week.  After the weekend, we will deepen in the various activities and practices that have been introduced, and have the opportunity to engage with other practices such as stroke, lungta and Werma, depending on interest.
Weekend Attendance
Costs
Tuition: $200
Meals: $30
Accommodations: Varies by type of accommodation. Visit the registration page for options.
Useful Links
Leaders