A Month of Meditation: Shamatha-Vipashyana Dathün
August 19 - September 17, 2023
"In the practice of meditation, you step beyond your hope and fear. You develop trust in the strength of your being and in your ability to extend yourself to others, and you find you have tremendous willingness to do so."


– Chögyam Trungpa Rinpoche
Overview
Dathün is a month-long, group meditation retreat that follows the Shamatha-Vipashyana tradition taught by the Buddha — often referred to as "sitting practice" in our Shambhala community. The retreat is supported by experienced staff and meditation instructors who will review instruction and provide individual guidance for participants throughout the retreat.
A month of meditation can an intense experience, and therefore this retreat is best suited for people who have developed some sort of relationship with meditation practice already. Dathün provides an opportunity for participants to go deeper with their practice. If we are able to handle the intense emotional experiences that arise during longer retreats, we can make friends with ourselves and our circumstances, and to re-discover our fundamental awake nature.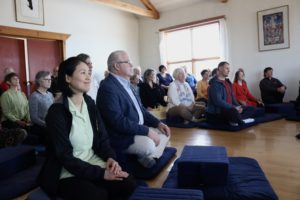 If you have questions about accommodations, costs, travel, Covid-19 protocols or other logistical issues, please email Guest Services for Dorje Denma Ling.
Costs
Tuition: CAD $1,000
Meals: CAD $435
Accommodations: Varies by selection. (Options can be viewed on the Registration Page.)
Scholarships and Payment Plans

For relatively new practitioners, BIPOC practitioners, and those under 40, scholarships are available through the generosity of the Pema Chodron Foundation. These scholarship funds are limited and on a first come, first serve basis, so please apply promptly by contacting Suzy Ulrich, Finance Manager.
For all other practitioners, please fill out and return the financial aid form or contact Suzy Ulrich.
Covid Considerations 
As conditions are as yet uncertain for 2023, we reserve the right to add covid restrictions as may be required. More information will be posted in the spring of 2023.
Useful Links